Aston Martin has revived what may be one of the coolest pieces of nomenclature to exist in the world of automobilia.
Yes, the Vanquish has returned to AM's lineup.
"Vanquish" …a word at once elegant and aggressive.  Exactly what Aston's team was going for when they slapped the badge on this coupe; a vehicle they're billing as a "Super Grand Tourer".
Hey, Aston Martin marketing department, I'll give you that one for free.  Lend me a car already?
Well, they wouldn't.  But they did let me sit in one.
Alright, fine, not even.
A friend who owns a DB9 is at Aston Martin New England all the time for repairs (haha, sorry couldn't resist), and as a result is on their mailing list.  He forwarded me his invitation to see one fo the first new Vanquishes here in the US which was being touted around highline dealerships all over the region.
Yeah… scraping the credibility barrel here.  But when it comes to Astons, an anglophile like myself has no shame.
I stole away to the Waltham, MA Aston/Lotus store around lunchtime to have a look.  Nestled in the center of the showroom, completely devoid of fanfare, sat the 2013 Vanquish.
My first impression?  Nothing short of what I expected: It is a tremendously exquisite machine to behold.
Even with the engine disengaged the car lept off the pavement (floor?) and into my face.  Swooping lines of white, bristling with chunks of exposed carbon fiber, encasing a crisp quilt-stitched interior the exact same red as a cherry-dipped-kiddy cone at Dairy Queen.  So perfect you'd think you were watching TV.
Moving into the cockpit the interior didn't blow me away as much as the bodywork, but I was a huge fan of the wacky flat-tire shaped steering wheel.  I'm pretty sure that's illegal in this state, but surely the gentleman scholar who will buy this car won't concern himself with such things as "passing inspection".
The rear seat, which is actually an option, is reserved for Hobbits.  Since the likelyhood of one of them finding their way into an Aston Martin is low, my money's on the back seats never getting used ever.
The car is powered by a 6 liter high-compression V12 that burps out 565 horsepower and just shy of 460 lb/ft of torque.  That, mated to a six-speed "touchtronic" automatic, lets the car leave a light to 62 MPH in 4.1 seconds and top out at just over 180 MPH.  Fuel economy is surprisingly reasonable at 19.6 in combined driving.
It breaks my heart to report that while the engine did indeed look glorious with imposing symmetrical intake manifolds ever so slightly eclipsed by a beastly swaybar, I was not permitted to start it.  So my review of the Vanquish has to end… here.
There were many other exciting distractions at the Aston store though, including a Rapide (that funky four-door) which I learned has a terribly uncomfortable back seat, and an exceptionally tidy V12 Vantage.  Finished in a glossy interpretation of British Racing Green with just enough carbon trim, suede headliner and a proper three-pedal six speed, this would have been my dance partner of choice.
The service bay, which was visible through a large glass internal window behind the Vanquish, was quite literally a treasure trove of many cars I lust after on a daily basis.
A near-perfect widebody 911 eclipsed a Mercedes 300SL and deep in the garage I spotted a Lamborghini Miura; the only one I can ever remember seeing… ever.
I made a note to come back the next time this dealership was on my way someplace.  Maybe I'll be able to sweet talk my way into a test drive after this favorable review.
Eh?
Guys?
---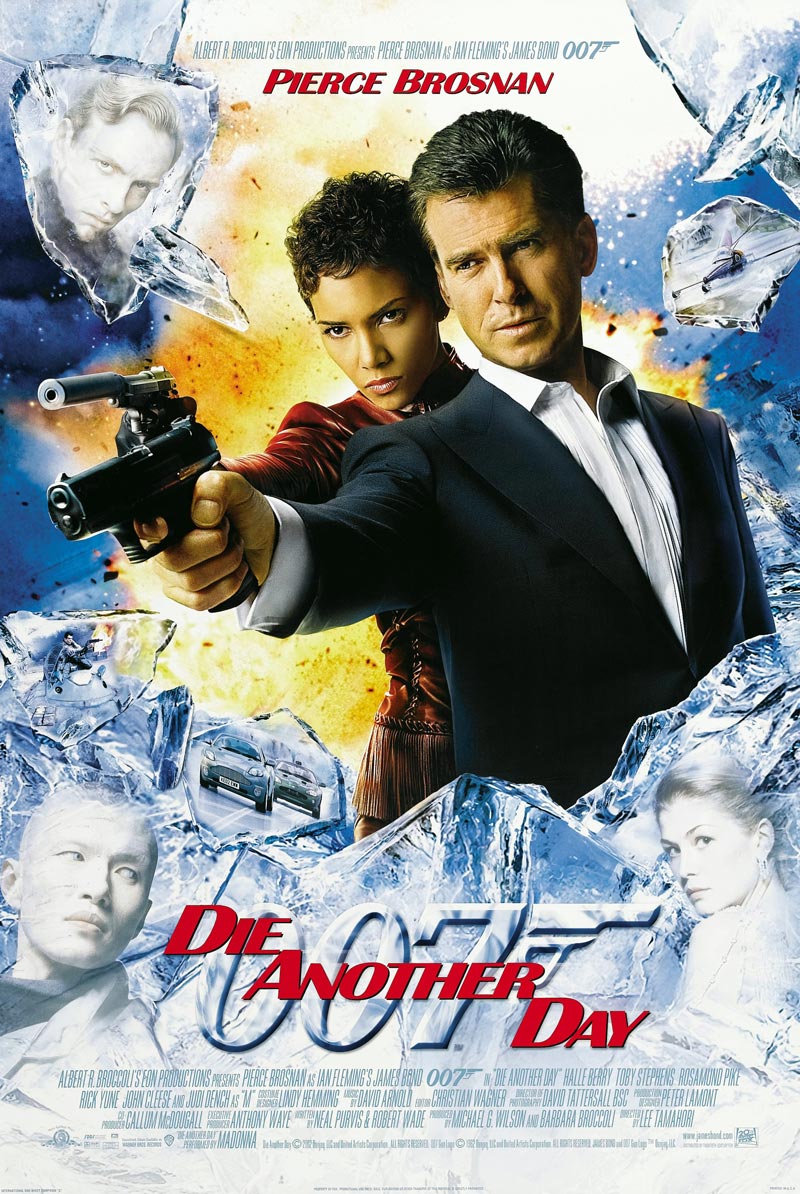 That's right, another Brosnan Bond movie.  Got a problem?
This might be the most unrealistic depiction of car usage I've seen in awhile, but it's all the more entertaining for it.
It's Bond in an Aston Martin V12 Vanquish and the villain in an supercharged Jag XKR (when it was still based on the limp-wristed XK8)… there's your first bit of fiction right there; that car wouldn't have a prayer of catching an Aston on asphalt or ice.
Speaking of ice, if you haven't seen the movie the giant yellow deathray might throw you off a bit, don't worry that's just the sun's energy harnessed to melt the Ice Hotel.
Then of course there are are volleys of bullets, missiles, and then Bond's Aston bumps into two snowmobiles and sends them… flying?
Hm.
Anyway the best part might be the end, when the villain ends up swimming in frozen water and gets one last cinematic "AHHHHHHHHHHHHHH" line before his demise-by-chandelier.
And even better, the clip is available in HD:
Brosnan's costar Halle Berry didn't make it into this scene, but that doesn't mean you can't enjoy her here.
Does the short hair work for you guys?
---